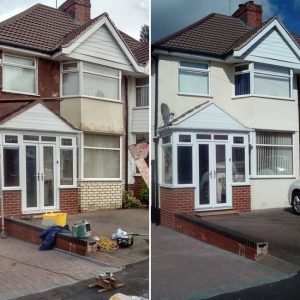 Render Repair- Protecting your home from the elements.
Refreshing the look of your property's exterior is aesthetically pleasing, giving your home a crack free, professionally finished look.
However, repointing and render repair is much more than just looks!! Did you know that cracked or damaged brickwork can expose your property to the elements and cause penetrating damp- leading to potentially costly and hazardous damp related issues within your home?
Repairing damaged and weathered brickwork, mortar and render can ensure that your property is protected from external moisture, reduces heat loss (saving you money on energy bills) whilst also allowing your property to breathe.
We install a range of external renders. You may require a full property or just a patch and repair and we will be able to find the right solution for you.
We also have our own scaffolding so in most cases there is no need to pay extra, saving you on the cost of all work being carried out.
List of render: textured coating, smooth render, spar-dashed, Tyrolene, pebbled-dashed, long lasting masonry paint.
External wall insulation.
If you have a penetrating damp problem or want to improve your home's energy efficiency, external insulation is a great option.
Did you know, with an external wall insulation, you can cut your heating costs considerably as solid walls let heat through twice as much as cavity walls. External wall insulation can be great energy efficient option for you. The process involves fixing a layer of insulation on the wall, covering it with a new type of render paperwork or cladding before applying a final finish. This may be smooth, textured, painted, tiled, panelled or pebble dashed.'
If you have a problem with cracks in brickwork, render or general cracks in your walls, call for a survey now and we can find the right solution for you.