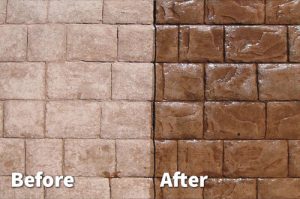 If you have a concrete imprinted driveway, we offer a clean and reseal service. Most imprinted areas will only require a seal. This is because over time, the seal can become worn and can expose the concrete to the elements. This will eventually lead to cracks and eventual breakdown of the area. If your imprinted area has lost colour or it is beginning to become porous, you may want to have the area re-coloured and sealed to restore it to it's former glory.
We have over 20 years experience in resealing and paving repairs, so you can be assured that you will get the best possible service.
During promotional periods, we may offer a free reseal of a small area for demonstration purposes.