Do you have a problem with :
Condensation.
Mold
Dust Mites
Asthma
Allergies
Respiratory Problems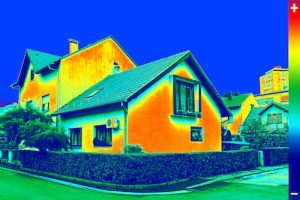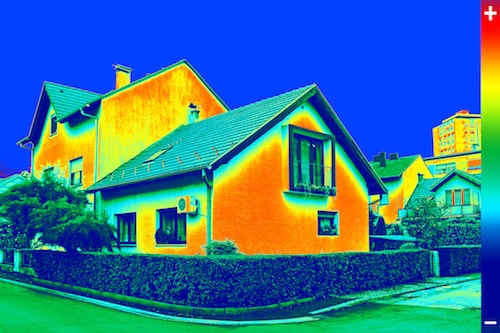 If you have condensation, mold or dust mites in the home- and as a result, asthma or allergies, our clean air ventilation systems can help you with these issues. Our ventilation systems not only draw moisture out of the home, they have also been proven to improve problems for asthma, eczema and allergy sufferers and helps to prevent other respiratory problems.
A high proportion of damp problems in buildings are caused by condensation, rain penetration or rising damp. Condensation accounts for approximately 70% of reported damp problems in domestic dwellings. Condensation in buildings forms when there is too much moisture in the air- generated by bathing, showering and even breathing. Most homes will experience condensation dampness with streaming windows, damp surfaces and musty smells being tell-tale signs.
Mould and condensation issues have also greatly increased due to better performing heating and insulation and new types of airborne particles being introduced into dwellings as a result of modern furnishings and cleaning products. As there has been an increased focus on more energy efficient housing, the effectiveness of natural ventilation in properties has been greatly reduced. Full insulation, double glazing and central heating systems, all inhibit the natural airflow in properties and reduce the area for moisture to escape from the building.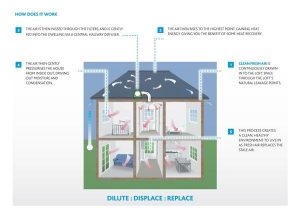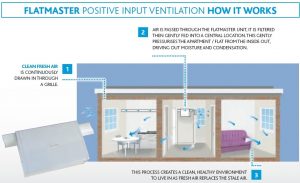 Does your property experience any of these condensation related issues?
-Misty, streaming windows
-Black mold spores on walls, fabrics or furnishings
-Peeling wallpaper and plaster
-Decaying window frames and damp corners
-Musty damp smells
Health risks related to condensation
The presence of black mold spores and dampness in the property is a heath risk and should be dealt with immediately.The Housing Health & Safety Rating System (HHSRS) states that dwellings should be free from category 1 hazards (hazard group A – physiological requirements, damp & mould). These hazards are described in the document as threats to health associated with 'increased prevalence of house dust mites and mould or fungal growths, resulting from dampness and/or high humidity. It includes threats to social well being and mental health which could be caused due to living in the presence of damp, damp staining and/or mould growth.'
if you have damp and mould you're more likely to have respiratory problems, respiratory infections, allergies or asthma. Damp and mould can also affect the immune system.
Moulds produce allergens (substances that can cause an allergic reaction), irritants and, sometimes, toxic substances. Inhaling or touching mould spores may cause an allergic reaction, such as sneezing, a runny nose, red eyes and skin rash. Moulds can also cause asthma attacks.
How can our ventilation systems help you?
Damp, moldy conditions can contribute to the development of asthma and other respiratory conditions. Good ventilation can help to regulate temperature and control moisture levels. Good ventilation can help to prevent issues related to dust mites. Damp conditions can form a perfect environment for dust mites to survive and multiply. When they come into contact with the skin and respiratory system, it can cause eczema, itching, and breathing problems. Ventilation systems supply the home inhabitants with fresh air. Our ventilation system can help to control concentrations of existing volatile organic compounds (VOCs)- emissions from household chemicals and furnishings- within a home, as it is nearly impossible to eliminate VOCs from indoor air.
Benefits of installing our ventilation systems:
Cures condensation dampness – PIV removes humidity from the air, preventing mould growth and controlling dust-mite allergens.
Improves indoor air quality – indoor pollutants from cooking and cleaning are removed while outdoor pollutants including traffic fumes, pollen and Radon gas are kept out.
Meets Regulations – as a low-energy ventilation strategy.
Intelligent 4-way heat recovery – twin sensors optimise energy-efficiency
Optional manual boost switch – when additional ventilation is required
Extremely low power consumption
Easy installation and very low maintenance
Fixed heat recovery – minimises loss of heat in the loft by recirculating the air, saving energy.
System standby in summer months – when the loft temperature exceeds 23°C.
Health benefits – clinically proven to help allergy and asthma sufferers.
5 year warranty – for peace of mind.